How to choose the right frames: Style, materials, taste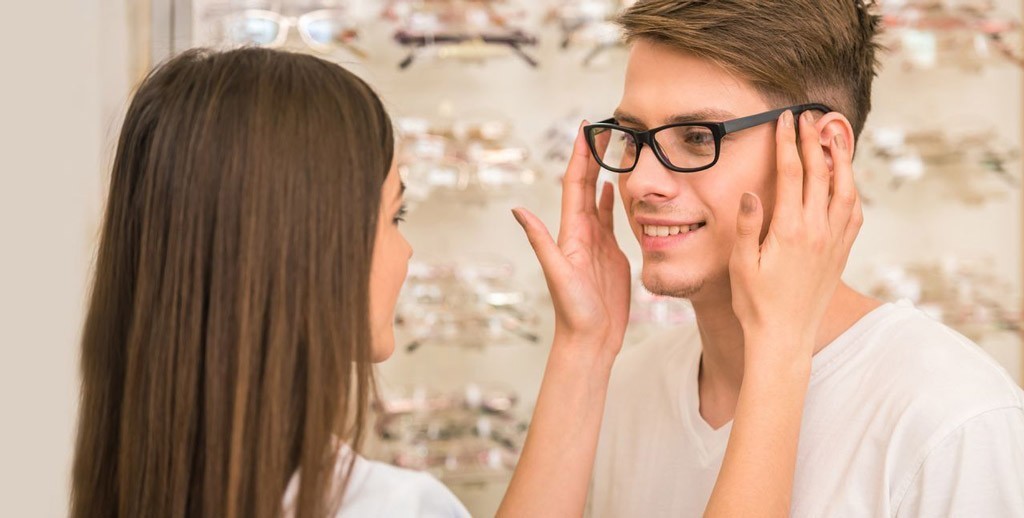 Back in the 1980s, an ad for Head & Shoulders anti-dandruff shampoo promoted this claim: "You never get a second chance to make a first impression."
That's why it's crucial to buy eyeglasses with frames that look and feel good and that will withstand wear and tear.
You won't get a second chance for your frames to make a first impression.
Here, we offer nine insights into selecting the right frames.
1. Consider Your Eyeglasses Prescription
If your eyeglasses prescription is strong — meaning you need thicker lenses — avoid thin wire frames and instead choose heftier frames that pair well with the weight of your lenses 
2. Look at your lifestyle
Do you frequently go outside? Are you constantly chasing after your kids?
If you're always on the go, be sure to pick sturdy frames that can take a beating. Eyeglass frame materials that are ideal for active lifestyles include: 
TR 90/ Acetate a lightweight, flexible metal.

Nylon, known for being strong and lightweight.

Titanium, praised for its lightness, durability and strength. 
Certain materials can add to (or subtract from) your frames.
In the metal category, experts recommend titanium, as it's lightweight, durable and strong.
In addition, frames made only with titanium are hypoallergenic. Titanium, however, is pricier than many other materials, thus driving up the cost of your glasses. 
Cellulose acetate, a type of plastic, also ranks among the top materials for frames. It's much less expensive than titanium and easy to work with, and comes in an array of colors, textures and patterns.
One drawback: Cellulose acetate tends to become brittle over time.
"Good acetate has a deep color, and is smooth and polished. "It should be flexible but hold an adjustment when done with heat."
While Monel is durable and resists corrosion, it might irritate the skin of a wearer who's allergic to nickel.
Picking frames whose shape contrasts with the shape of your face.
In other words, square frames for a round face and round frames for a square face. Most types of frames are suitable for oval faces.
You should stick to oversized or larger frames if you have a wider face, and smaller frames if you have a narrower or slimmer face.
SEE RELATED: How to choose the best eyeglasses for your face shape
Aside from the shape of your face, don't overlook your skin tone, eye color and hair color when hunting for frames.
In addition, take into account the colors of clothing that you typically wear. Go for frame colors that complement — rather than clash with — your coloring and your wardrobe.
6. Open your eyes and your mind
Eyeglass wearers to experiment with frames that depart from the norm.
"When it comes to eyewear, many people get stuck in a bubble of always picking the same styles," he says.
Along those lines, purchasing glasses in a variety of frame styles, not just one, two or three.
Have fun with frames, and put a pair on each morning that fits your mood." We always encourage our customers to step outside the box and take a risk. Fashion is subjective."
7. Get a second (or third or fourth) opinion
Before buying frames, ask others for a thumbs-up or thumbs-down. These critics could include friends, relatives, co-workers and eye care professionals.
Ask Your children and wife or BF/GF how you looks with your new glasses.
"They are always spot-on with trends, plus their opinions matter more to than anything."
What matters most is what you think of the frames.
"It's nice to get a second opinion from friends and family, but keep in mind that people you see often are used to seeing you a certain way and may not like a certain frame if it's not a style you usually wear," "It all comes back to taking a chance if you find a look you love.
"Confidence is key,"so if there is a particular frame that you love, give it a shot."
We recommends running through this checklist before deciding on frames:
Do you feel comfortable and confident in them?

Do they fit your face?

Do they align with your personal style?
"If all of those are a 'yes, then you've found a great pair of glasses.
READY TO BUY THE BEST EYEGLASS FRAMES FOR YOU? JUST CLICK ON THE FOLLOWING BUTTON TO GET YOUR NEW FRAME.